Mohr's circle is a two-dimensional graphical depiction of the stress state that can be used to transform stress.
What is the difference between a stress state and primary stress?
A body's stress state is the result of a combination of strains in all three directions, i.e., X, Y, and Z or 1, 2, and 3. There are three normal stresses (acting perpendicular to the face): σ11, σ22, and σ33, as well as six shear stresses (acting parallel to the plane): 𝛕12, 𝛕23, 𝛕13, 𝛕21, 𝛕32, and 𝛕31. The stresses that the body is subjected to that are depicted in the diagram below.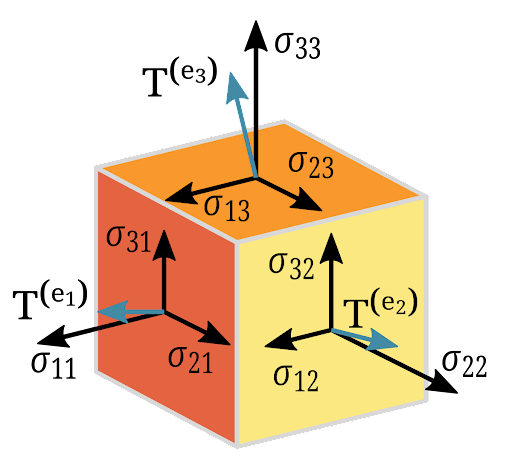 The shear stresses can be reduced to three values when considering equilibrium operating on the body, namely 𝛕12 =𝛕 21, 𝛕13 = 𝛕31, and 𝛕32 = 𝛕23. As a result, six stresses can be used to characterise a stress state: three normal stresses and three shear stresses. If just in-plane orientations are taken into account, the resultant stress state can be achieved by lowering the stresses, 𝛕13 = 𝛕31 = 0, and 𝛕32 = 𝛕23 = 0. Three stresses may now be used to characterise the 2D stress state: two normal stresses (σ11 and σ22) and shear stress (𝛕12 = 𝛕21). This can also be depicted as indicated in the diagram below (with 1 and 2 directions as x and y).
What is Principal Stress and How do you Calculate it?
Consider a situation in which the plane is just subjected to normal stress. Principal stresses are the tensions that exist at that point. This is accomplished by decreasing the shear stresses to zero and then converting the existing stress state.
The principal stresses can be written mathematically using the principal stress equation:
σ1 = ((σxx + σyy) / 2) + √(((σxx - σyy) / 2)2 + τxy2)
σ2 = ((σxx + σyy) / 2) - √(((σxx - σyy) / 2)2 + τxy2)
Where, σ1 and σ2 = minimum and maximum principal stresses.
Similarly, the state's maximum shear stress (max) can be calculated using the equation:
τmax = √(((σxx - σyy) / 2)2 + τxy2)
Maximum shear stress can also be calculated using the major stresses as follows:
τmax = (σ1 - σ2) / 2
while the maximum stress (max) is written as:
σmean = (σxx + σyy) / 2
The angle of orientation is calculated as follows:
2θ = tan-1(2*τxy/(σxx - σyy))
The equations above will assist you in sketching Mohr's circle and vice versa. The preceding equations can also be deduced or acquired using the geometrical approach described in the section below.
Estimating Primary Stress using Mohr's Circle
To use Mohr's circle to estimate principle stress, you must first grasp what Mohr's circle is and how to draw a Mohr's circle. A stress transformation is performed using a Mohr's circle, which is a graphical depiction of a stress condition. For a given 2D stress state with normal stresses (σxx and σyy) and shear stresses (τxy and τyx), design a Mohr's circle as follows:
Step 1: Plot the coordinates (σyy,τxy) and (σxx,-τxy) as points A and B, with as the X-axis and as the Y-axis, respectively.
Step 2: To get the diameter AB, join the points A and B.
Step 3: Find the circle's centre, O, which is the place where line AB intersects the X-axis.
Step 4: Draw a circle with O as the central point.
Step 5: The principal stresses are the spots where the circle contacts the X-axis.